NEWS and EVENTS

Recent News Highlights about the proposed METRO BRT Underpass on Lockwood
METRO advances route for University Corridor bus rapid transit while pledging to improve community engagement
Houston Public Media – April 6, 2023
METRO approves route for University Corridor BRT despite ongoing community concerns, objections
Houston Chronicle – April 6, 2023
METRO Board approves route alignment
Eastwood Civic Association – April 6, 2023
METRO pitches underpass to ease East End concerns about University Corridor BRT route. Is it enough?
Houston Chronicle – April 4, 2023
VIDEO: Congresswoman Sylvia Garcia hosts Town Hall Meeting with METRO and Eastwood Civic Association to discuss the planned METRORapid overpass on Lockwood at Harrisburg
Eastwood Civic Association – April 3, 2023
g
METRO Agrees to No Overpass: Community input needed about alternative options
Eastwood Civic Association – March 31, 2023
METRO to explore overpass alternatives this week
Eastwood Civic Association – March 29, 2023
Neighbors in Eastwood fighting to get METRO overpass moved
ABC13 KTRK – March 25, 2023
METRO delays approval for proposed University Corridor project amid community concerns about overpass
Houston Public Media – March 23, 2023
Houston's longest transit line moves forward despite objections
Houston Chronicle – March 23, 2023
'We don't want this monstrosity here': Proposed METRO overpass has Eastwood neighbors seeing red
ABC13 – March 21, 2023
East End residents upset over proposed METRO overpass
KHOU 11 – March 21, 2023
VIDEO: Community Meeting with METRO about proposed overpass
Eastwood Civic Association – March 21, 2023
NEIGHBORHOODS
The Eastwood Civic Association proudly serves the neighborhoods of Eastwood, Broadmoor, Lawndale, W.A. Kirby, Jackson Court, Woodleigh, Eastlawn, Dissen Heights, Houston City Railroad, Suburban, L.B. Moody, Beverly Park, Eastview, Hauser, Dor Ruth, Mueller, Dixie, Georgia, and Youngmens.
NEWS
Tuesday, October 10, 2023 – National Night Out

A national community-building campaign that promotes police-community partnerships October 10, 20236:30 PM — 8:30 PM on Park Boulevard @ Eddington StreetFree to attend + free tacos, ice cream and face painting In lieu of our October General Membership meeting, residents from all ECA-represented neighborhoods are invited to join us for a FREE! block party — similar to […]

Read More
HISTORY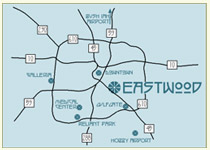 Eastwood is one of Houston's first master-planned subdivisions. It was designed and developed in 1913 by William A. Wilson, who also developed Woodland Heights. The first residents were young entrepreneurs in the city, business owners, and managers.
The first lots went on sale in June 1912 and Eastwood was officially opened in September 1913. The development was planned with paved streets, cement curbs and sidewalks, city water, gas, electricity, telephones, and sanitary sewerage. The lots were terraced and designed for natural drainage, with landscaped esplanades and the planned placement of trees.
By October 1913, Eastwood was hailed by The Houston Daily Post as a "model suburb, one of the most convenient, attractive and beautiful homesite additions in the city of Houston." The homes built in Eastwood were custom homes reflecting the early 20th century fondness for Craftsman, Arts & Crafts, Foursquare, and Mission architecture. Today, Eastwood has one of Houston's largest intact collections of these architectural styles.
Learn more about Eastwood and its historical homes in resident Billie Mercer's book, Eastwood Today. Or, use this handy guide for a self-guided walking or driving tour of Eastwood.
ECA
Monthly Meetings
The Eastwood Civic Association meets on the first Monday of every month (no January or July meetings) at 6:30 pm. Meetings are currently being held in person at the Cape Center. Virtual participation is also provided via Zoom. Please join us!
More Information
EASTWOOD CIVIC ASSOCIATION MEMBERSHIP
The Eastwood Civic Association serves our area by building a strong sense of community. Our mission is to improve the quality of life for our residents; protect the value and beauty of our homes and neighborhood assets; and work with local government officials and law enforcement to protect and serve our citizens.
Learn more
Show your Eastwood pride!
Show your Eastwood Civic Association pride! Support the ECA with your purchase of a t-shirt, mug, or other great merchandise on Cafe Press.